Akita factory is responsible for development of more new processing technology by leading the local area with precision processing technology with the local excellent human resources and is also responsible for processing technology transfer as the mother factory of the Vietnam Factory.
It provides integrated manufacturing from advanced cutting processing with NC automatic lathe to grinding processing.
Also actively works on business expansion for development of the local community and activation of local industries.
Main facilities machineryDOWNLOAD(Japanese only)

NC automatic lathe
Rolling machine
Center less grinder
Buffing machine
Honing machine
Two rulers milling machine
Cylindrical grinder
Plane grinder
Shot blast
Centrifugal tumbling barrel
Rotary tumbling barrel
Press fitting machine
Marking machine
Robot
Washer
Washer

(for container)

3D measuring machine
Truth circle degree measuring instrument
Shape measuring instrument
Aspect coarseness measuring instrument
Micrometer microscope
Image processing unit
Projector
Length measuring machine
Specified testers for various purposes
Processing technique

Automatic lathe processing
Grinding processing
Milling machine processing
Machining center processing
Processing material

Stainless steel
Titanium
Iron
Non-iron
Other difficulty cut materials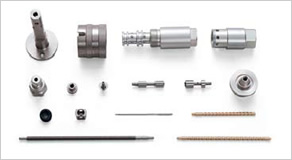 Main product

Motor parts
Hydraulic machinery parts
Solenoid valve parts
OA machinery parts